Creating environmentally responsible solutions
The Annihilyzer®, an automated electrolyzed water On Site Generator (OSG), produces a disinfectant and an all purpose cleaner. HOCl is strong oxidizing agents, that kills bacteria, fungus, mold, mildew, spores, and other micro-organisms. Our cleaner is an antioxidant solutions that are highly effective degreasing and detergent agents and is a highly effective bio-film remover. Both disinfectant and all purpose cleaner are environmentally responsible, and yet effective solutions for the control of unwanted micro-organisms.
Our Annihilyzer® Large Volume machines produce on site generated fluids that effectively kill bacteria, viruses, and pathogens listed on our OSG 460-D product label. Our on-site generators make disinfectants/sanitizers and cleansers at your facility. Our Electrochemically Activated Solution – OSG 460-D disinfectant is effective with efficacy up to 99.9999% of listed label pathogens and contributing HAIs including C diff (Clostridium Difficile). Our Electrochemically Activated Solution OSG 11-12C– All Purpose Cleaning and Degreaser works as well as any cleanser on the market with zero residue, excellent at cleaning grease, dirt, and biofilm.
Onsite generation allows continuous production of non-harmful fluids and reducing the costs associated with ordering and storage of harmful chemicals.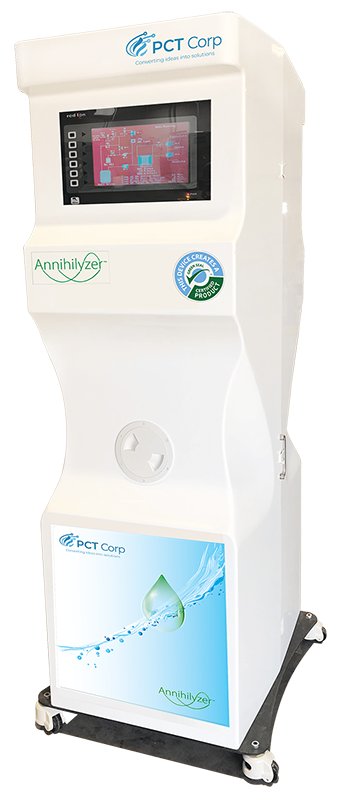 Utility Cart – 360 Wide Area Electrostatic Cart Sprayer
An affordable applicator, the PCT Utility Cart – 360 utilizes proven electrostatic technology to charge each droplet to provide effective application of liquid (sanitizing and disinfectant) formulations. The droplets stay separated due to the charged nature allowing uniform, even coverage on entire target surface every time.
The PCT Utility Cart – 360 is ideal for use in spraying commercial and retail areas such as stores, medical and dental practices, hotels (rooms), schools, daycares, offices, warehouses, meeting rooms and high traffic hallways. Also excellent for disinfecting hard to reach areas in and around transportation (taxis, buses, trains, aircraft, etc.). Can also be used for controlled humidification.
Precision flow rate and droplet control
Uniform and consistent coverage
Droplet size can be controlled for both ULV and residual spraying
Stainless Steel Metering Valve
Pivoting adjustable head for precise directional spraying
Complete, consistent coverage up to 2,100 sq ft
360˚ degree rotating turntable base
Timer operation settings for 2, 5, 10 and 15 minutes
Heavy-duty wheeled utility cart with locking wheels and 5-gallon reservoir