A NON-HAZARDOUS CLEANER AND DEGREASER FOR A RANGE OF APPLICATIONS
While there are many different cleaning solutions out there, all claiming various levels of safety, efficacy, low toxicity, environmental friendliness, and other qualities, the term catholyte is much less familiar to most people than other products. In reality, though, catholyte solutions offer the benefits that most customers look for most in a cleaning product without any of the toxic chemicals or other hazardous substances that they want to avoid. The catholyte cleaner available from PCT is quickly changing the way environmental services personnel accomplish their critical mission of keeping areas clean from disease-harboring particles. Beyond the critical areas of healthcare, catholyte can also be used in settings such as public transport, food manufacturing/preparation environments, and even in the home.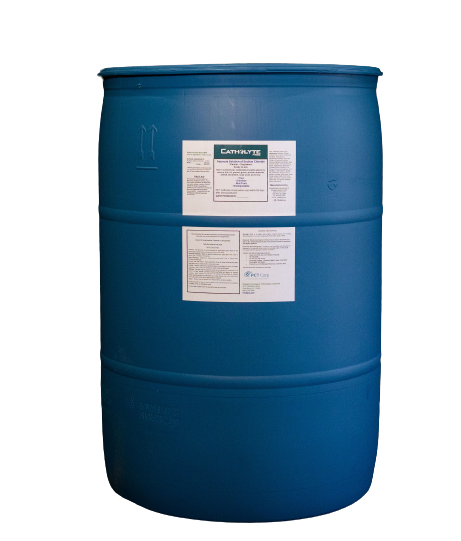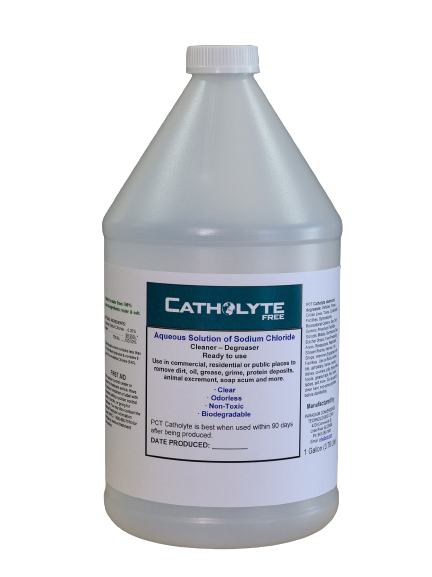 Producing a Catholyte Cleaner
The way a catholyte cleaner is produced is much different from that of most household cleaning products. Rather than mixing chemicals together, the manufacturing of catholyte is accomplished through a technique called water electrolysis. It all begins with a simple mixture of water and sodium chloride (that is, salt), which is electrically charged and redistributed into two different solutions–a catholyte and an anolyte solution.
The anolyte solution is itself an important product also distributed by PCT, and functions as an effective disinfectant solution registered with the EPA. You can learn more about anolyte solutions and its unique cleaning properties, as well as powerful applications customized to the healthcare field, on the other pages of our website.
The catholyte solution, when captured and bottled, forms a powerful partner to the anolyte as an all-purpose cleaner and degreaser. Because the catholyte is formed from nothing more than water and sodium chloride, it is safe, non-toxic, and "green," making it a great option for a huge range of different cleaning needs.
CATHOLYTE CLEANER APPLICATIONS
Because it is safe for humans and animals, a catholyte cleaner can be used in practically any setting without posing health risks. At the same time, it is extremely effective as a cleaner against mid to large size particles and as a degreasing agent. here are a few of the most important applications of this solution:

Floor Cleaning
With no fumes, chemicals, or toxic elements, catholyte is ideal for use as a floor cleaner. In high traffic environments where cleanliness is critical, such as hospitals, veterinary practices, and nursing facilities, this is a fantastic option for keeping disease-harboring particles from collecting on floors.

Food Prep Areas
Keeping toxic chemicals out of food preparation areas is important, and a catholyte cleaner allows for complete removal of food particles, fluids, and other residue without the hazard of cross-contamination and without introducing toxic substances to the area.

Everyday Cleaning
Many families worry about the storage and use of chemical-based cleaners in the home with children or pets in the area. From the kitchen to the bathroom to hard floors throughout the house, parents can use catholyte cleaner with confidence that they are achieving a complete degreasing and particle removal without endangering their families.

Vehicle Interiors
A catholyte cleaner is highly effective for cleaning vehicle interiors, such as private coaches, public transport, ambulances, law enforcement vehicles, ride sharing vehicles, and others. Because it cleans effectively without creating fumes or an unpleasant odor, a catholyte is perfect for an enclosed space like a vehicle interior.

Medical Settings
From dental exam rooms to hospital operating theaters, catholyte is a safe yet extremely effective degreaser and cleaner. The non-hazardous nature of a catholyte cleaner allows for the fastest possible "turnaround time" for medical exam and operating rooms, giving doctors and nurses the ability to see more patients as quickly as possible without waiting for rooms to be cleaned.
ARE CATHOLYTE CLEANERS SAFE?
Catholyte cleaners are non-toxic and contain no environmentally damaging chemicals. There are no restrictions to prevent catholyte from being used to clean in food production areas or in medical settings where humans or animals are treated. Catholyte is easy to use safely, easy to store, and a great option for people who are determined to "go green" in their home or place of business without sacrificing cleaning power.
ON-SITE CATHOLYTE GENERATION
For the oil & gas and many other applications, PCT offers a powerful solution for on-site generation of both catholyte and disinfectant. The Annihilyzer® is a compact machine that executes the water electrolysis process on demand, producing catholyte cleaner when and where it is needed. On-site generation using the Annihilyzer® eliminates the entire supply chain for catholyte cleaner, from reordering to inventory, delivery receiving, transport, and ultimately disposing of used containers. By eliminating waste and reducing the amount of employee hours needed to keep track of inventory and reorder cleaner, companies and institutions can comply with waste reduction mandates and reduce their overall carbon footprint. They also minimize their reliance on the sometimes unpredictable supply chain to obtain essential cleaners to keep their facility safe.
PCT: YOUR CATHOLYTE PARTNER
PCT is a leader in helping hospitals and other facilities in the healthcare field discover the benefits of using catholyte cleaner in place of more toxic products currently in use across the country. The company offers catholyte in bulk, shipped to facilities for storage and use in all contexts, without the concerns over VOCs and quats that come with many chemical based disinfectant products. PCT welcomes inquiries from healthcare and institutional facility managers interested in learning more about catholyte cleaners, anolyte solutions, and how they can keep patients and essential healthcare workers safe.